Loading
The Powells and another surf lifesaver who survived the ordeal, Phil Younis, should also be nominated for gallantry honors, the coroner found.
"While Australian-born beach users continually face the dangers and risks of swimming on unsupervised beaches from a young age, many tourists or newcomers have no knowledge or appreciation of how dangerous our waters are. .
"Afterwards, they not only risk their own lives by entering the water, but they risk the lives of their rescuers."
Both father and son have been life members of the Port Campbell Surf Life Saving Club and prominent figures in the local dairy industry.
In a statement from the men's family, provided to the coroner, they described the couple as dignified and responsible men who always had a good idea of ​​what was right.
"They were the kind of people who would always do the right thing, even if no one was watching. Ross and Andy's lives have been enriched by the contribution they made to society. And our community was so much richer for their contribution.
Port Campbell Surf Life Saving Club president Scott McKenzie said the tight-knit community was still reeling from the loss of the Powells and the tough Easter surf was proving to be a painful reminder of what happened in 2019.
McKenzie said at 12:30 p.m. Monday that surf lifesaving clubs across the state would pause for a minute of silence to honor the lives of their two companions.
He also took the opportunity to urge the public to heed safety messages and only swim between flags at supervised beaches this Easter long weekend.
"People still don't realize how dangerous this stretch of coastline is. If all the recommendations in the report can be addressed, then hopefully we will never see a situation like this again," he said.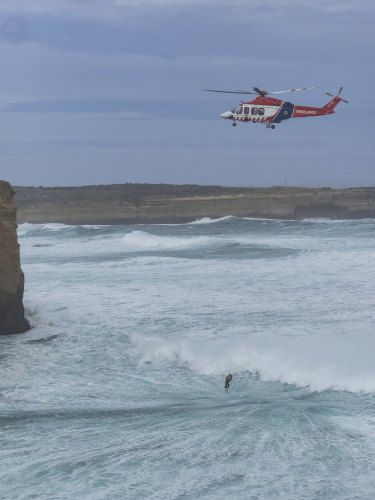 "The community here has been incredibly supportive and resilient, but with the big swell we see at Easter, it will come back to people's minds."
As part of an inquest into the men's deaths, Life Saving Victoria also carried out an independent review and compiled 32 other recommendations, which were acknowledged by the coroner. Of these, 28 have already been implemented.
Recommendations included that the organization investigate and put in place appropriate life jackets for operators of sea rescue vessels so that, if they become injured or unconscious at sea, they remain afloat with their heads above the water. 'water.
The review also found that Life Saving Victoria should investigate vessel operator head protection which also allowed adequate radio communication.
Coroner's papers show a Life Saving Victoria panel will now meet again to consider the recommendations.
Life Saving Victoria chairman Paul James welcomed the findings and said they would ensure the organization continues to learn from the tragic incident.
The Morning Edition newsletter is our guide to the most important and interesting stories, analysis and ideas of the day. register here.