Summary
Thailand's Airports of Thailand (AoT) announces its financial results for the last three and six months.
Revenues have risen sharply, but losses are still recorded.
Revenues were boosted by the relaxation of medical entry requirements for foreigners.
The overall inbound tourism market is growing, with the UK and the US becoming the main source of visitors in 2021.
Financial measures to help airlines afford to fly in Thailand have been extended.
AoT has taken three airports from the Department of Airports but has not yet commissioned them
Airports of Thailand (AoT), the main and partly privatized operator of major Thai airports, including those in Bangkok, has released its financial statements for the three and six months ending March 31, 2022.
Originally a state-owned enterprise, AoT was incorporated in 2002 and a subsequent partial IPO (30%, institutional and retail investors) took place in 2004, with the state retaining 70% through of the Ministry of Finance.
AoT operates Bangkok's two airports and four others (Chiang Mai, Chiang Rai, Hat Yai and Phuket).
In September 2021, Thailand's Minister of Transport announced that the management of Udon Thani Airport, Krabi Airport and Buriram Airport would be transferred from the Department of Airports (DoA) to AoT control. on 30-year leases. The objective was to increase the capacity of airports, making them regional air transport hubs to accommodate more tourists. The decision caused friction because these airports are the main sources of income for the DoA.
Udon Thani Airport and Buriram Airport would be handed over to AoT on January 1, 2022, with Krabi Airport to be transferred at a later date. However, the January transfer did not happen and at the end of March 2022 it was announced that he would do so in April 2022.
This is not yet officially the case, but AOT may have taken on management functions. The most recent report states that Krabi and Udon Thani airports will officially open in August 2022, with Buriram airport to follow in September 2022.
Thailand emerges from the COVID gutter, with its tourist activity
The AoT results are released against the backdrop of Thailand's slow emergence from the COVID-19 pandemic and associated lockdowns and travel restrictions.
The country could argue that it has been the most affected in the world that depends on tourism. In normal years, the percentage of Thailand's GDP that is represented by tourism reaches 12%, the same as in Spain.
In the first half of 2022, cases peaked for the second time in a year, following a year in which, inexplicably (and like North Korea), Thailand reported virtually no COVID cases. -19. This second peak reached its peak in April 2022, with 50,000 cases per day, although this is only a quarter of the number in some countries with a similar population size.
However, this second peak is rapidly diminishing at present, with the number of daily reported cases now falling to 5,000. The AoT and tourism authority will be desperate for this to be a signal of the end of the pandemic in the country.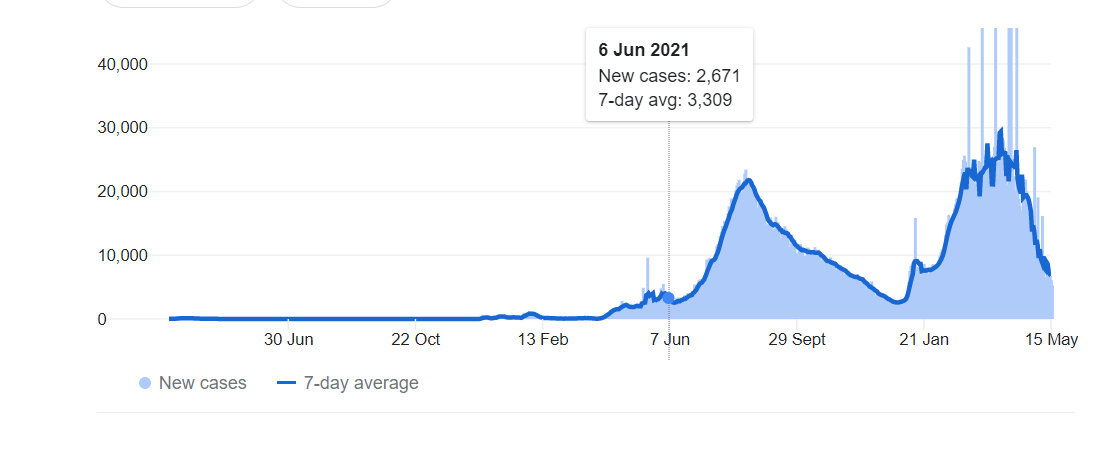 A 'quarantine waiver' helped bring some visitors back
Thailand has, where it could, introduced a "quarantine waiver" for foreign tourists to revive its vital tourism sector.
Thai and foreign passengers who have been fully vaccinated do not need to quarantine under the "Test & Go" program, effective February 1, 2022.
The CAPA chart below shows that overall seat capacity in Thailand, while still well below 2019, is now at least consistently higher than 2020 and 2021.
The state planning agency now expects 5.5 million tourists in 2022, up from the previous forecast of five million made in November 2021.
But that remains well below the 40 million foreign tourists in 2019, suggesting the economic recovery will be slow and uneven.
Economic growth falters from one crisis to another
Thailand is Southeast Asia's second largest economy, and both the government and the AoT will be relieved that the economy returned to growth in the fourth quarter of 2021. It rebounded faster than expected, driven by exports robust and a resumption of domestic activity after an easing. the brakes of the pandemic and that the borders have started to reopen to foreign visitors.
In 2021 as a whole, Thailand's economy grew by +1.6%, one of the weakest rates in Southeast Asia, after contracting -6.1% in 2020.
However, no sooner had one impediment to growth begun to ease than the Russian invasion of Ukraine introduced another, forcing the Bank of Thailand to revise the country's growth forecast downward. for the year, at +3.2%, from +3.4% to +4.5%. % he had previously considered as prices began to rise.
As Chinese tourists melt, a growing market is the UK and the US
At least the economic sanctions against Russia won't have a big impact on tourism. In 2019, visitors from Russia made up just 3.7% of visitors, although this figure rose to 6.7% in 2021.
The biggest loss is to Chinese tourists, which is expected to continue. In 2019, they were 27.6% of the total, but in 2021 – only 2.4%.
The largest supply of tourists in 2021 actually came from the UK, followed by the US, which did not even account for 3% of visitors in 2019, and this is where the tourism authority might be tempted to concentrate its marketing this year.
Revenues doubled in 1Q2022…
AOT's revenue increases have more than doubled in the last three months compared to the six-month period.
Aeronautical increases in both cases exceeded non-aeronautical increases, indicating a slow return to normal in parts of this segment, although concession income was higher than in other non-aeronautical elements.
Office and property leasing was the worst performing segment, along with several other airports and groups that reported for the first quarter and indeed a small loss was recorded during the period of six months.
… but the losses worsened over the longer period
During the six-month period, operating losses and net losses worsened compared to the previous comparative period, but in 1Q2022. While the net loss worsened again, the operating loss was reduced by 13%.
During the six-month period from October 2021 to March 2022, the profitability ratio (the ratio of profit (here: loss) from operations to revenue from operations (%) decreased from (-199.24%) to (-136.63%).
But the return on equity (ROE) fell from (-5.37%) to (-6.35%). Similarly, the return on assets (ROA) fell from (-3.79%) to (-4.00%).
The debt-to-equity ratio remained stable at 0.72, while the liquidity ratio deteriorated from 1.58 to 1.13. A debt-to-equity ratio of around 2 or 2.5 is generally considered good, and for the liquidity ratio, 2.1.
The number of flights decreased while the number of passengers increased slightly compared to the corresponding period of the previous year.
It's clear that AoT still has a long way to go to break even – let alone make a profit. It continues to introduce measures to help it achieve this goal.
AoT's financial results are summarized below.
Measure

Amount (USD million)

+/- previous comparable period

(pcp)

Total revenue

107.3

+73.1

(Aeronautics)

37.7

+117.9

(Departing passenger service charge)

23.6

+184.5

(Landing and parking fees)

11.5

+54.1

(Flight Service Fee)

2.7

+69.4

(Non-aeronautical)

53.6

+46.9

(Revenues from concessions)

18.3

+68.7

(Service revenue)

24.0

+65.4

(Rents for offices and state property)

11.2

+1.2

Operating profit (loss)

(-95.7)

Compared to a loss of 110 million USD in pcp

Net profit (loss)

(-95.2)

Compared to a loss of $90.4 million in pcp.
Measure

Amount (USD million)

+/- previous comparable period

(pcp)

Total revenue

193.6

+34.3

(Aeronautics)

63.2

+43.6

(Departing passenger service charge)

37.2

+53.6

(Landing and parking fees)

21.2

+32.4

(Flight Service Fee)

4.8

+26.5

(Non-aeronautical)

97.7

+30.2

(Revenues from concessions)

32.4

+50.1

(Service revenue)

43.4

+38.2

(Rents for offices and state property)

21.9

(-0.7)

Operating profit (loss)

(-253.3)

Compared to a loss of 214.8 million USD in pcp

Net profit (loss)

(-224.3)

Compared to a loss of USD 204.0 million in pcp

Total assets

5,500

–

Cash and cash equivalents

198.7

–

Total responsibilities

2,300

Total number of people

15,815,000

+0.46%
Airline relief measures extended
The AOT Board of Directors of November 25, 2021 approved measures to support the activity of airlines and concessionaires by extending the period of aid measures from March 31, 2022 to March 31, 2023. Also by extending d one-year concession period for concessionaires carrying out commercial activities at the six airports under AOT's responsibility from the end date of the existing concession period, subject to the continued progression of the COVID-19 pandemic. 19 (i.e. this extension could be modified, modified or rescinded as the case may be).
In a section of its report titled "Factors Affecting Future Operating Results", AoT states that Thailand's tourism industry entered low season at the end of this quarter (from July 2022), making the recovery of the "difficult" aviation industry. However, due to the easing of pandemic control measures, travelers will "gain comfort" and boost the recovery of the tourism economy.
He adds that AoT has a plan to develop a digital cargo system to bring technology to support and improve management efficiency in Bangkok's Suvarnabhumi Airport Free Zone.
The report concludes by stating that AOT "remains committed to building passenger and service recipient confidence by being well prepared to provide services under strict measures to prevent the spread of COVID-19 by adhering to COVID Free guidelines. Setting in accordance with the measures of the Ministry of Public Health and has integrated its plans with various collaborating bodies to achieve the objectives".
"AOT is also focused on security, which is at the heart of airport service, and stands ready to work with the government to support the country's economic and tourism recovery," the report added.